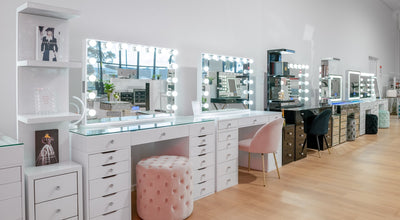 Vanity Chic is an Australian-owned and operated business established in 2013. 
We aim to provide unique and high quality Hollywood makeup mirrors, tables, chairs and beauty station products at a reasonable price.
Visit Our Store for Exclusice Offers
Visit us at A1/1-5 Lake Dr, Dingley Village VIC 3172. We also offer buy now, pay later services such as Afterpay and ZipPay so that you can manage your purchases easily!
Shop Products
Featured Selection
Give your makeup station a facelift today with our collection of Hollywood mirrors, tables and chairs.
View More
View Our Range of Products
Makeup Mirror With Lights
The charm of yesteryear is back and now you can access that glam diva feeling in your own home!
Vanity Chic are on hand to help you step back in time but with the most up-to-date, high-quality materials and best craftsmanship behind every piece of Hollywood glamour!  For starters, every diva insists on a Vanity Mirror that will light up the room and take the guesswork out of every glow-up!
Read More

Watch out for runway glamour as Vanity Mirrors Melbourne will set you on track for zero errors in your makeover routine! Sashay through your day! Vanity Mirrors of Melbourne have got your back. And, your sides. And, your rear-view. We've got you covered and we'll be here waiting patiently till you return to your boudoir having slayed your way through town and back again. Are you getting a Kat Von D, "Mulholland Drive," Betty Page vibe? So are we! We know you invest a lot of time and effort into your look on the regular, so why not treat yourself to a rig that sets the scene? The minute you feast your eyes on the showbiz, backstage glamour of our Vanity Mirror, you're already getting into The Zone. We get you. We've got you! You've got this! Get ready with us! We love bringing star-quality into your space, because you deserve it and, you've earned it. Vanity Chic is affordable luxury and every time you enter your beauty-prep area, you will feel like the star that you ARE. Facts.

The Vanity Chic Mirror is all about Hollywood style but bringing it directly into your dressing room, bathroom, bedroom, or walk-in wardrobe. We get you. We know you get that makeup is lit.

We know you understand that every fashionista deserves the best of the best in well-crafted quality. Our friendly team are standing by the phones, ready to take your call. Or just drop us a line. Let us deliver the glam directly to you! We can't wait to help you take your look to another level and beyond! Shop now.

FAQS

What's the warranty for the Lighting Makeup Mirrors?

All brand new makeup mirrors come with 1 Year Manufactuer Limited Warranty (exc. Physical damages/Globes).

Do LED hollywood vanity mirrors deliver enough light to the room space?

This question is a bit difficult but I'd say: The mirrors with globes are much brighter than other type of mirrors. Most of lighing mirrors come with Sensor Dimming Functions. The customer can adjust the brightness levels by diming function.

How long is the shipping & prcessing for my order ofmakeup vanity mirror?

The warehouse staff will process the checking of the bulky orders before dispatch. The estimated delivery time would be 1 to 2 weeks after dispatch.

How do I change or cancel my order for vanity chic mirror?

If there is a change of mind or you would like to cancel we allows for returns or refunds under the condition that a 20% handling fee of the entire invoice will be charged. Please send us an email with your order number within 3 days of purchase and we will be in contact.

How long does it take to assemble a vanity chic mirror?

Cannot find this information on the website anywhere: Our vanity chic mirrors take anywhere from half an hour to an hour to fully assemble, instructions will be provided but if you have further trouble please contact us.

How do you clean a vanity chic mirror?

When cleaning your Vanity Chic Mirror please use professional glass cleaning products and keep the mirror in dry conditions, when moisture penetrates the glass or improper cleaning products are used this will cause the mirror to rust at the edges.
Own It Now
Pay Later
Australian
Owned & Operated
12 Month Limited Warranty